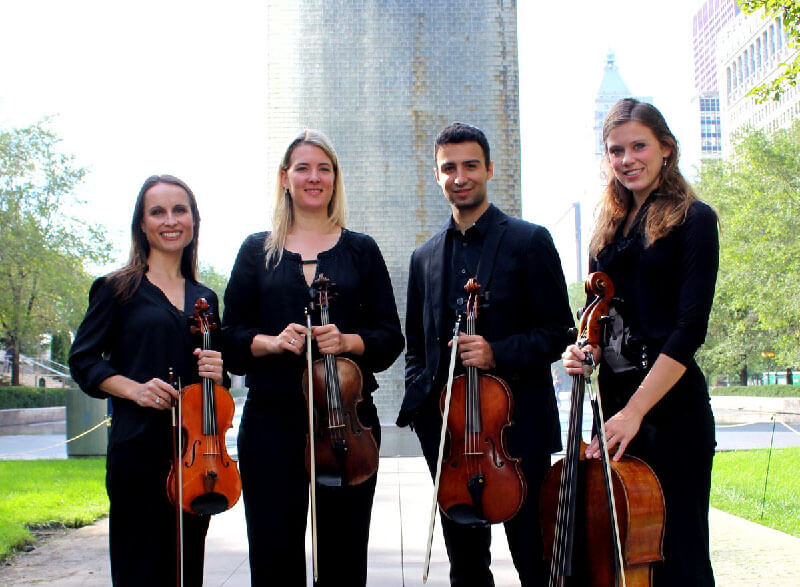 Cloud Gate String Quartet
The Cloud Gate String Quartet is one of the most sought after Chicago based ensembles for wedding ceremony music, corporate events, and parties.  The group performs both classical music as well as original arrangements of popular non-classical songs, bringing a level of artistry and professionalism that your guests are sure to notice.
"This was the best investment! They were professional at all times and their music was angelic! I would definitely recommend that everyone hire them for any event!"
Violinist Emily Nash, began her violin studies at the age of 7.  She finished her MM in violin performance with Almita Vamos at Northwestern University, graduating early and with high honors. She also studied with Roland Vamos and chamber music with Mathias Tacke from the Vermeer String Quartet.  She received her BM in violin performance from University of Illinois at Urbana-Champaign while studying with Simin Ganatra.  In 2005 Emily was a solo competition winner with the New Haven Youth Symphony Orchestra, a guest soloist with the Choate Rosemary Hall's tour to Italy, and a finalist in the Greater Bridgeport competition.  Her quartet won first prize in the Greenwich Center for Chamber Music Competition, also in 2005.  Growing up, Emily spent her summers attending California Summer Music, Interlochen Arts Camp, and Madeline Island.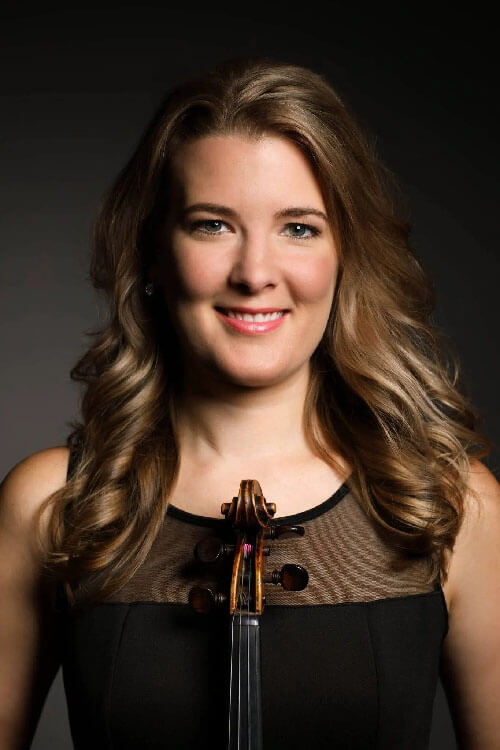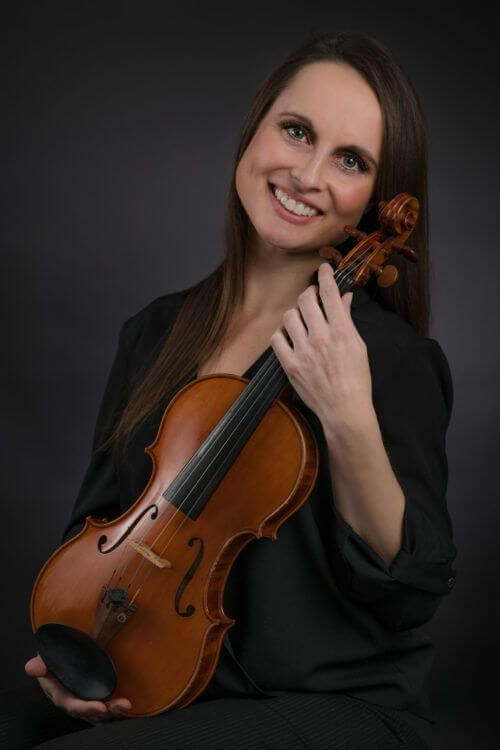 2nd violinist, Katy Gillan, born in Aberdeen, Scotland, moved to Houston, Texas at the age of six where she graduated from Houston's High School for the Performing and Visual Arts with Highest Honors. She continued her musical training at the Boston Conservatory where she earned her Bachelor of Music degree as a student of Lynn Chang and her Graduate Performance Diploma under the guidance of Irina Muresanu. While in Boston, Katy played with the Boston Ballet Orchestra, Emmanuel Music of Boston, and The Orchestra of Indian Hill. In 2008, Katy moved to Lubbock, TX and was Associate Concertmaster of the Lubbock Symphony Orchestra from 2008-2009. In 2009, Katy moved to Midland, TX, and from 2009-2012, she served as Principal Second Violin in the Midland Odessa Symphony and Second Violinist in the Permian Basin String Quartet. In 2012, Katy relocated to Illinois where she performs with the Rockford Symphony Orchestra, Renovo String Orchestra, Tenuto Orchestra, and Chicago Composers Orchestra.
Violist, Bruno Silva, began studying viola in 2004 in his native Brazil at the Escola de Musica de Brasilia. After one year, he placed in a solo competition and had the opportunity to perform with the Orquestra Sinfonica da Escola de Musica de Brasilia. He graduated from the conservatory in two and a half years, a program which normally takes eight, and then enrolled in the University of Brasilia. As viola principal, he performed with the Renovo String Orchestra, North Park University Symphony Orchestra, Brasilia Philharmonic, University of Brasilia String Orchestra, Art-Brasilia Orchestra, among others. As a soloist, Bruno has won top prizes and has performed with Midwest Young Artists, Orquestra Sinfonica da Escola de Musica de Brasilia, North Park University Symphony Orchestra, Mode Ensemble and the Orquestra Art-Brasilia. Bruno Completed his Bachelor of Music degree at North Park University where he studied with Charles Pikler, Chicago Symphony principal viola and his Masters at DePaul University, studying with Rami Solomonow, Lyric Opera of Chicago former viola principal. Bruno was a regular member of the Civic Orchestra of Chicago from 2011-2013 where he got the chance to work with Yo-Yo Ma and the world's top conductors. Today Bruno is a member of the Chicago Sinfonietta's Project Inclusion and Principal Violist of Skokie Valley Symphony.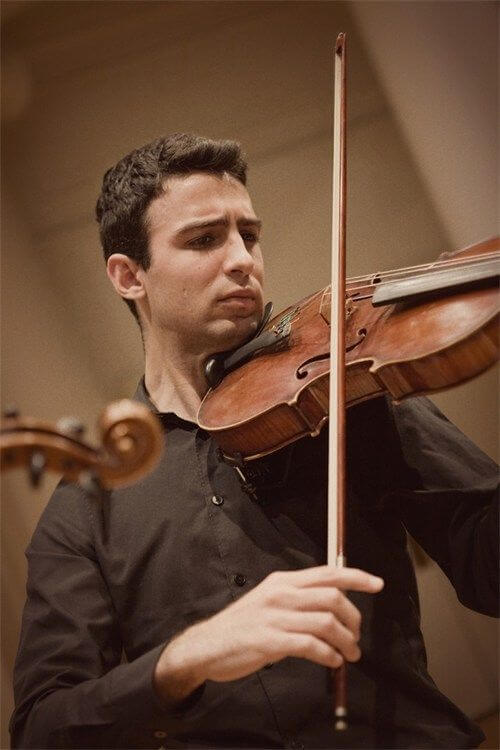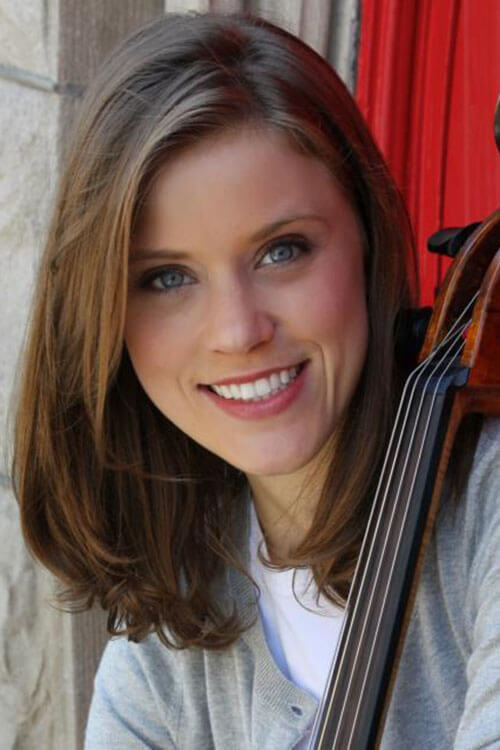 Cellist, Allegra Montanari, maintains an active performance career in genres ranging from classical to contemporary. As an orchestral performer, she has had the pleasure of playing for the Spoleto Festival USA, Civic Orchestra of Chicago, the New World Symphony in Miami, Florida, the Southwest Florida Symphony, and as member of the Sarasota Opera Orchestra and the Charlottesville Opera Orchestra. Also an avid chamber musician, she has performed chamber recitals throughout the United States and has collaborated with artists such as Ilya Kaler, the Pacifica Quartet, Stefan Hersh, the Fifth House Ensemble, and Orion Weiss. During her time as faculty at Carthage College, Allegra completed 'The Brahms Project' with colleagues Wael Farouk, piano, and Drew Williams, violin, featuring the complete performances of Johannes Brahms' chamber ensemble works with piano. Other recent engagements include joining Corky Siegel's Chamber Blues as team cellist for tours across the nation. Ms. Montanari graduated from the Jacobs School of Music at Indiana University and completed her Masters at the Chicago College of Performing Arts at Roosevelt University where she was a student of John Sharp, Principal Cellist of the Chicago Symphony Orchestra. For more information on Allegra, please visit www.allegracello.com