The perfect music for your wedding.
The perfect music for your wedding.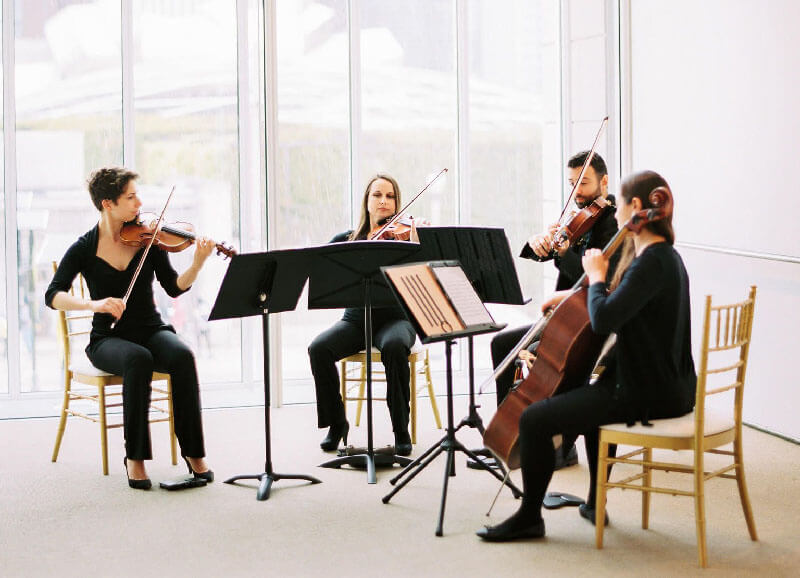 "We absolutely loved Cloud Gate Quartet! We had a trio play at our wedding on June 30th 2018. They are such amazing musicians. I can't speak highly of them enough! Ross was so helpful and responsive with emails. He the process so easy. The day of the wedding I was blown away of how eloquently the musicians played for our ceremony. They are very talented. I would definitely choose them every time!"
Jaime
Cloud Gate String Quartet has performed at hundreds of weddings since we started in 2016. We can help you curate the perfect setlist for your wedding or special event!
We typically play a 30 minute prelude before your ceremony starts, as your guests arrive and find their seats.
Music for everyone walking down the aisle! Three songs is the standard – one for the wedding party, the bride, and the recessional at the end.
Have us stay for cocktail hour! Pop music is our specialty, we have a huge library of songs to choose from. We'll work with you to come up with the perfect playlist.
Want some nice elegant background music for your dinner reception before the DJ or band arrives? We can help transition your event into party mode by adding a drummer and/or a sax.
All venues on this list we've played at multiple times, and we're on the preferred vendors list for many of these.
Harry Carays Italian Steakhouse
Adler Planetarium Wedding